These instructions show how to connect to the CA&ES Remote Desktop server from a tablet or smartphone of the type listed below. Note that support will not be available for troubleshooting connections to the Food Processor Remote Desktop server from tablets or smartphones (this information is provided as a courtesy). The application is somewhat awkward on a tablet or SmartPhone. For your convenience it is recommended that you use a desktop or laptop computer with full keyboard/mouse functionality to complete your homework. You may, though, find it useful to use your tablet to preview the application.
Step 1: Download and install the appropriate client app for your device:
Step 2: Connect to a wi-fi network - Connect to a wi-fi network such as Moobilenet/-x instead of using your cellular data network if possible (this will reduce the problems you will have).
Step 3: Configure Connection and launch - Once you have installed the app you must configure it to connect to the FoodPro server. Open the app and tap on "New Remote Desktop."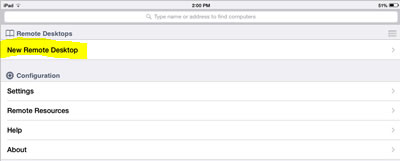 Enter the below settings. In this example replace "" with your UCD login ID minus the brackets and replace "" with your Kerberos passphrase minus the brackets.
Connection name: FoodPro
PC Name: foodpro.caes.ucdavis.edu
User name: ad3\
Password: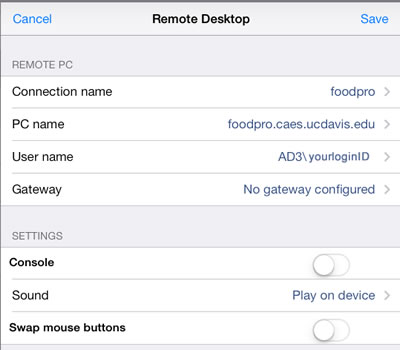 Tap on Save and then tap on the new connection named "FoodPro" to connect.
Wait until the Remote Desktop window shown below opens (note this can take a few seconds). You should eventually see the desktop settings, files, and programs that are on the CA&ES Remote Desktop Services server. The icon for "The Food Processor SQL" should be available on the desktop (quickly double tap on the icon to run it).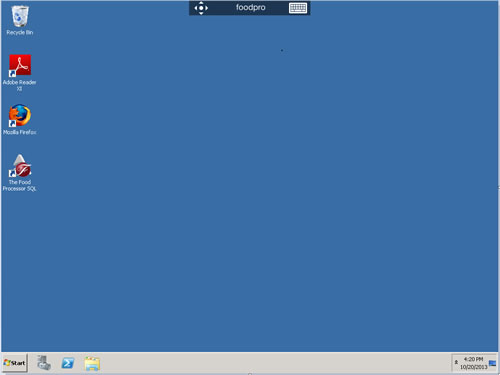 To access the keyboard tap on the keyboard icon at the top of the screen. To select something with the mouse quickly tap it or double tap it as appropriate similar to how you would with a mouse.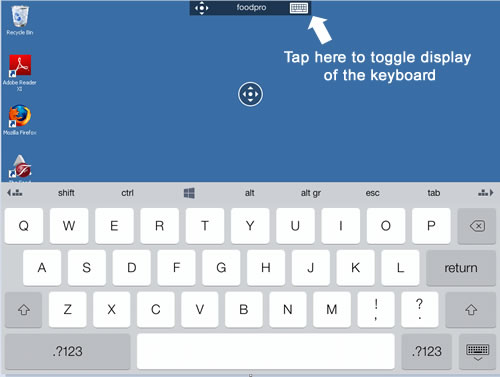 To end your Remote Desktop Session click Start, and then click Log Off at the bottom of the Start menu. If the app sticks at "Logging off" for longer than 1 minute, close the app via the mechanism used by your particular device.
Note that printing to a local printer is not available in the mobile device app, but you can print to PDF within Food Processor and email the PDF to yourself to print later. Instructions on how to print to PDF within Food Processor are available.