Authentication Problems
If you have a problem logging on to the Remote Desktop server, this may be due to a permit assigned to your campus computing account not having the passphrase set on it (depending on when you set up your campus computing account and when you last set your passphrase, some campus accounts do not have a passphrase set for the permit named "IMAD", which is required for the campus domain system). You can set your password for the "IMAD" permit by following the instructions linked below. If after setting your IMAD passphrase and waiting ~15 minutes, you are still unable to log on to the system, please email foodprohelp@ucdavis.edu. Remember to log on with ad3\ in front of your user name.
Problems Connecting with a Mac
To resolve problems connecting with a Mac please follow these steps in the order shown:
Carefully follow the instructions above to reset your IMAD Passphrase. Even if the error you are seeing does not seem to be connected to your passphrase, note that most connection issues are still resolved by taking this step. If it still does not resolve your issue, then follow the procedure to reset your passphrase on your IMAD permit a second time (it is possible that something went wrong when you reset it).
Follow our instructions to download and install the latest version of Remote Desktop Connection for Mac compatible with your OS.
Try to log on again and make sure you put ad3\ in front of your user name when logging on (if your user name is jmartinez, you would enter your user name as ad3\jmartinez
Note that if you try to log on to Remote Desktop Connection with an incorrect passphrase, you need to completely close Remote Desktop Connection for Mac before you try to log on again (trying to log on again without closing and re-opening again can result in a variety of errors). To close Remote Desktop Connection go to the upper left of your screen and go to Remote Desktop Connection and then select Quit Remote Desktop Connection. Then open Remote Desktop Connection again and attempt to connect.
If you still cannot connect, please email foodprohelp@ucdavis.edu
"You have exceeded the number of licenses"
We have 50 licenses for Food Processor so only 50 students can access the software at a time. Once the 50 license limit is reached students who attempt to run Food Processor will see a dialog stating "You have exceeded the number of licenses.  No other users can  access the database until another user exits." If this occurs, please wait ~10 minutes and and try to run the software again. If you are having problems getting access, you may want to attempt to access the software outside of peak times (early morning will likely be the best time to attempt to run the software).
"Session has now exceeded its time limit, it will be disconnected in 2 minutes. Save all your files now."
Connections to the Remote Desktop server are limited to 2 hours per session. After 2 hours a dialog will appear (shown below) indicating your session will be disconnected in 2 minutes and in 2 minutes you will be kicked off and have to log back on (this should give you time to save your work by going to File, Save). The homework assignment can be completed in under 2 hours and this time limit is in place so that all students have an opportunity to access the software. Please use your time wisely (log on when you are ready to start and complete your entire homework project in one session). If you are unable to complete your homework in one session, it is recommended that you save your data to a file and email it to yourself so that you can import it later to resume your homework. Instructions for saving data and files are available.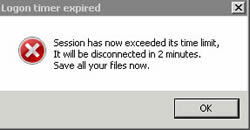 Printing multi-day food records
For you lab assignment, you will complete a two day food record and then you are asked to report on your data from both days separately.  Food Processor will display the average intake for however many days that you have inputted and selected.  To evaluate data from each day individually, you will need to print two reports for the two different days.  To do this, first select your subject's name and then select only the "Day 1" record.  Unselect all other days.  Open up all of the food items for this day.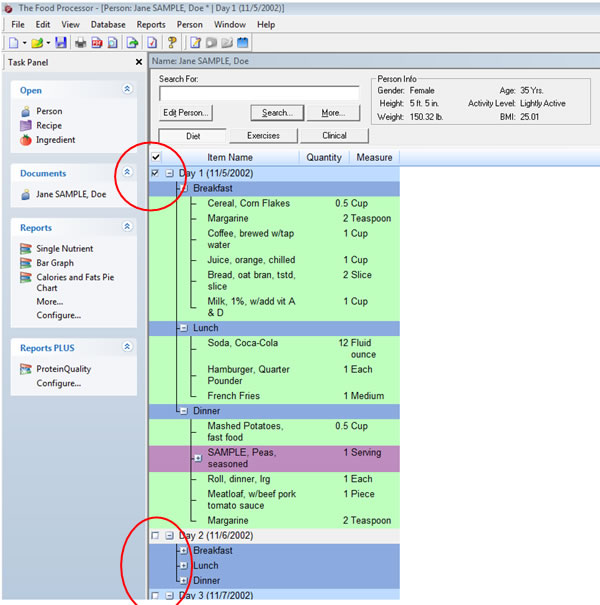 Printing Problems
When you remote into the Remote Desktop server your local printers should show up as available printers with "(redirected)" on the end of the printer's name. If your printers do not show up, please view the instructions for your operating system:
If you still have problems printing after making sure your local printer is available, then you should create a PDF of your report and email it to yourself to print later.  Instructions are below.
How to Print to PDF within Food Processor
To print to PDF from within Food Processor first open the report you want to print. Next go to File, Print to PDF.
This will bring up a prompt to select where you want to save your PDF file. It will default to your "Documents" folder in your user folder on the Remote Desktop server (you can click on Browse to save your file elsewhere such as the Desktop). Click on Save (remember where you selected to save your file). This will create a PDF file of your report. Once the file is created open Mozilla Firefox web browser via the link on the desktop, log on to your email system, and email the file to yourself to print later.