If you would like to be included in the Alumni Spotlight page, please contact us via e-mail at nutritionalumni@ucdavis.edu (we would love to hear about your accomplishments, what´s new in your life, how your time at UCD impacted your future, and we especially like to see photos!).
---
Jenny Beck
Class of 1997 ((B.S.), 1998 (M.S.))
Jenny is still working in the nutrition field as the Coaching Manager for a San Francisco based company called WellCall. She manages a team of nutritionists, health educators and exercise physiologists to create and deliver wellness programs for corporate clients. She lives in San Luis Obispo, CA and works from home. Jenny has been married to her husband Jay Beck (also a UC Davis grad in exercise science in 1998) since 2001 and they have two daughters (Charley age 2 and Lucy 8 weeks).
---
Connie (Barnes) Belk
Class of 1995 (B.S.)
Connie is enjoying her job working with post-menopausal women on a long-term research study at the UCD School of Medicine. In the past year, she has focused on improving her public speaking skills and became a Competent Toastmaster through Toastmasters International. Connie writes, "I wish people were aware of this organization, as it has limitless opportunities for improving public speaking and leadership skills."
---
Doug Bond
Class of 1970 (M.S.)
Doug is currently a statistician with the Texas Higher Education Coordinating Board in Austin. "I provide data and reports that support the Coordinating Board´s mission to make higher education more accessible to all Texans, especially underrepresented groups." He retired from the federal government in 2007 after 30 years as a survey methodologist with USDA and the Census Bureau. At USDA he worked on a variety of surveys to produce estimates of state and national crop and livestock production, including California fruit and nut crops. At the Census Bureau he was the chief of research and methodology for all of the Commerce Department's surveys of construction activity, such as housing starts and construction expenditures. "I don´t think my career has been typical for a nutrition graduate, but the critical thinking, research methods, and careful writing skills I picked up at UC Davis have been applicable to any situation I have been placed in."
---
Barbara Bator Colgin
Class of 1975 (B.S.)
Since graduating in 1975 with a B.S. in Nutrition Science, Barbara has made a career in pharmaceutical sales. She currently works for Johnson & Johnson and lives in Reno, Nevada.
"I was in the first dietetics class that Dr. Stern taught at UC Davis with Dr. Frances Zeman in '74-75. I enjoy getting the newsletter and updates."
---

Jessica D. Coppola
Class of 2004 (Ph.D.)
Jessica is currently employed as an adjunct professor of Nutrition and Biology at Sacramento State University, American River College, and Woodland Community College.
"I am teaching classes for three of the local colleges. So far I have taught cell physiology, microbiology, genetics, general biology, nutrition & metabolism, nutrition in health & disease, and current controversies in nutrition science. It has been a lot of hard work but is fun as well! The first few semesters were rough preparing lectures for the first time, writing tests etc., but after the first time, it gets much easier."
"I am using all of the skills I acquired at UCD! Amazingly, my oral examinations were probably the experiences that most prepared me for teaching at the college level. It is amazing the questions that students come up with and the "thinking on your feet" that is required to answer them!
---
Gretchen (Arhelger) Dunoyer
Class of 1984 (B.S.)
Gretchen received her M.S. as a clinical nurse specialist in 1988 and is now an oncology nurse in the Boston area. She started a mind/body wellness program for oncology patients, which includes sessions on the latest information regarding nutrition and cancer.
---
Helen Effron
Class of 1980 (B.S.)
Helen completed her M.S. in nursing at Sonoma State after graduating from UCD. She has maintained a strong interest in Nutrition Science and incorporates nutrition teaching in primary care medicine.
---
Sharon Elliott
Class of 2002 (Ph.D.)
"I joined the Graduate Group in Nutrition in September 1996 and I received my doctoral degree in September 2002. The focus of my study at UC Davis was obesity. One of my goals is to apply the advanced scientific training I have received to a community setting. I want to explore ways to implement population-based strategies for the prevention of obesity in El Dorado County. Eating well and staying active throughout the lifespan are two critical components of this undertaking. In the next five years I will expand the focus and scope of the HP Division to include these important lifestyle issues, with the intent of identifying ways to make healthy choices the easy choices in our community."
"I have been the manager of the El Dorado County Public Health Department's Health Promotions (HP) Division since January 2001. My responsibilities include overall policy development, program planning, effective delivery of the Division´s scope of work, and fiscal management of a $1.4 million budget spread over 13 separate cost centers. This position allows me to utilize my degrees in nursing, exercise physiology and nutrition, as well as my previous work experience in corporate wellness and hospital-based community health screening and education. As I write this article, plans for a nation-wide smallpox vaccination program are being unveiled. Public Health Departments across the country are taking the lead in preparing for any potential bioterrorism activities and I am a member of the local team assigned this function."
"On a personal note (no pun intended), my newest endeavors include learning to play the piano and taking every opportunity to enjoy my first grandchild - a little girl who will arrive in March."
---
Carla J. Escola
Class of 1996
Prior to retirement, Carla was teaching Fashion Design, Food and Nutritional Science and CHE core classes at Sierra High School. Students earning a B or better in Fashion Design during both terms are eligible for 3 units of credit through San Joaquin Delta Community College. Carla was responsible for establishing the Food Science course on campus. This class is recognized as a UC/CSU lab science course for high school graduation. This is currently the only school with this designation in the state of California. The course offers ServSafe certification. This safety and sanitation certificate is instrumental in a student's ability to be hired in the food service industry. All food service establishments in the state of California are required to have an employee with one of four recognized safety and sanitation certificates. She was instrumental in obtaining a $100,000 grant to implement ServSafe certification and the Food and Nutritional Science course.
Other accomplishments include: an advisor for Future Homemakers of America-Home Economics Regional Occupations (FHA-HERO) and yearly Senior Projects, and chair, judge, region site host and coordinator for Region 6 Competitive Recognition Events (CRE) (FHA competitions). She presented in workshops and Leadership and Management Round Tables for the California Department of Education. She was a committee member for Sierra´s school-wide Lobo Gold Awards Program which celebrates students´ academic success. Carla was essential in district-wide curriculum alignment and assessment.
Her awards include San Joaquin A+ Teacher Award (2000) and the Dream, Dare, Do Award (2003).
---
Susan Gunther
Class of 2000 (B.S.)
Susan recently completed her M.S. in Nutritional Sciences at the University of Washington, Seattle. On May 31, 2003, she married Trent Thomas, B.S., class of 2000. Trent is currently in the Department of Nutrition and Toxicology at UC Berkeley working on his Ph.D. They are living in Berkeley. Susan writes, "Thanks to UCD Nutrition Department for giving us a great education start!"
---
Charles Johnston
Class of 2002 (B.S.)
Charles is pursuing a second B.S. degree in Professional Nursing at the University of Vermont, Burlington. He writes, "Enjoy living in a new place, but miss Davis as well. Thanks for the newsletter."
---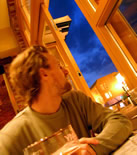 Joel Kimmons
Class of 2000 (Ph.D.)
Joel currently works as a Nutrition Scientist and Epidemiologist in the Chronic Disease Nutrition Branch, NCCDPHP, of the Centers for Disease Control and Prevention.
"Being in Davis was great, great folks, good coffee, and biking is the best transport"
---
Valerie Wallace Malone
Class of 1974 (B.S.)
"I really have no news except to say that I love this new Nutrition Newsletter. From 1974 to 1989, I worked in the New York City textiles business and emphasized the "textiles" part of my degree. I am considering going back for a master´s degree in nutrition studies here at Colorado State University in Ft. Collins. My old college textbook, Nutrition and Physical Fitness by Bogert, Briggs and Calloway sits amongst my cookbook collection and I refer to it often!"
---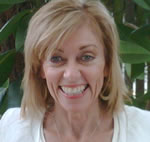 Michele McRae
Class of 1972 (B.S.)
Michele graduated from UC Davis in 1972 with a degree in Nutrition Science & Dietetics. Since graduating she worked in hospitals for a while and then she became more passionate about nutritional supplements and preventive health. She worked with holistic M.D.´s doing nutritional counseling and then had her own nutritional counseling practice for a short while.
From there she decided she wanted to work directly with supplement manufacturing. For the last 10 years she has been working as the Director of Formulation at Rainbow Light Nutritional Systems, a dietary supplement company. "All that chemistry came in pretty handy, and I just love my work. We do powders, gummies and more, every day is a challenge which is fun."
---
Margaret Mills
Class of 1968 (B.S.)
Margaret graduated with a B.S. in Family and Consumer Sciences/Home Economics in 1968 and got her credential in 1969. Wow, that's 41 years ago--where did the time go! I am still married to Wayne Mills (UCD: B.S., M.S. Electrical Engineering 1965, 1968). We have 2 children--a daughter who is an accountant and a son who is a Ph.D. doing laser research at UBC.
---

Michelle Neyman Morris
Class of 1991 (B.S), 1997 (Ph.D.)
Michelle is currently employed as an Associate Professor and Dietetic Internship Director at California State University, Chico.
"I received tenure and promotion to Associate Professor last fall after four years at Chico State. My primary teaching responsibilities include Basic Nutrition, Human Nutrition, Lifecycle Nutrition and Community Nutrition. My research in community nutrition focuses primarily on food insecurity and hunger among rural north state seniors and community-based social marketing to enhance fruit consumption. Service responsibilities include sitting on the Board of Directors for the Community Action Agency of Butte County, Inc. whose mission is the promotion of self-sufficiency among economically and socially disadvantaged individuals and families in our community."
"I attribute my professional success to the amazing mentoring and support I received at UCD. In particular, being a member of Dr. Sheri Zidenberg-Cherr's lab sparked my passion for community nutrition. I appreciate the grant support I received as well as faculty encouragement to present research at professional meetings."
"In addition, my involvement with Professors for the Future, and an internship with California Project LEAN (Leaders Encouraging Activity and Nutrition) of the California Department of Health Services while a grad student greatly enhanced my professional development."
"On a personal note, I got married in January to Chris Morris. I met Chris through his sister Jennifer Morris who was also in Dr. Sheri Zidenberg-Cherr's lab while I was at UCD."
---
Amy Myrdal
Class of 1994 (Dietetics)
After completing her undergraduate degree from UCD in 1994, Amy Myrdal completed a 12-month dietetic internship at the University of Minnesota in August 1995, and earned an M.S. in nutrition communication from Tufts University School of Nutrition Science and Policy in May 1997. Then, in December of 2000 she joined Dole, first as a nutritionist. Within a year she was promoted to a nutrition communications manager, and last March was promoted to her current position, Director of Nutrition Marketing & Education.
Her professional career began in public relations, first working as an independent consultant for food and beverage clients including General Mills and Fresh Samantha Juices. She joined the Agrifoods Division of Fleishman-Hillard in Kansas City where clients included Ocean Spray Cranberries and the Wheat Foods Council. In 1998 she joined the Rippe Lifestyle Institute in Shrewsbury, Massachusetts as a senior research dietitian and led nutrition intervention protocols for cardiovascular research studies and had co-authored a nutrition cookbook, "The Healthy Heart Cookbook For Dummies." In 1999 Amy was promoted to Director of Marketing for the REWARD Project, a national weight registry coordinated by Rippe Lifestyle Institute.
When not traveling for work, Amy enjoys balcony gardening, golfing, cooking and reading. She lives with her two cats (Linus Pauling and Lucy Fur) in Oak Park, California.
---
Alice (Clack) Nicolai
Class of 1990 (B.S.)
Alice is currently employed part-time as the Lead Nutritionist and Supervisor at the UC Davis Women's Health Initiative research study, located in Sacramento.
---
Lt.Col Patricia Gambera Petnicki
Class of 1994 (M.S.)
Lt. Col Petnicki graduated from UC Davis with a M.S. in Nutrition Science in 1994. She was an Air Force AFIT student and worked in Barbara Schneeman's lab from 1992-1994. She is in her 23rd year in service to Air Force and currently a Lt. Col and Nutritional Medicine Flight Commander assigned to David Grant Medical Center, Travis Air Force Base.
---
Claudia (Lopez) Rahim
Class of 1993 (B.S.)
Claudia worked at UCD Medical Center as an inpatient and outpatient dietitian until January 2003. Her specialty is diabetic education. She earned her CDE in 2001. She is now at home raising her first child, Sabrina Isabel.
---
Jacqueline A. (Young) Schultz
Class of 1996
After receiving her B.S. in Dietetics at UC Davis, Jacqueline went on to get her M.S. in Clinical Nutrition from Rush University in Chicago in 1999. Since then, she practiced clinically in pediatrics - with Cystic Fibrosis at Children´s Memorial, Chicago and as Nutrition Manager at La Rabida Children´s Hospital, Chicago. She received her CSP accreditation in 2001. She currently works as a Clinical Specialist at Nestlé Nutrition, providing education and support to the sales force and to other clinicians, including physicians, dietitians, nurses, etc. across the country. Jacqueline was married in 2002 and her last name is now Schultz.
---
Mary Kiser Stansell
Class of 1968 (B.S.)
Mary graduated in 1968 with a BS in Nutrition and Dietetics and then took a Dietetic Internship at Duke University Medical Center. Since 1969, she has worked as a Clinical Dietitian, much of that time in Diabetes Education. In 1994, she became board certified as a Diabetes Educator (CDE). Currently, she is semi-retired, working two half days a week as a Diabetes Educator for an Endocrinology practice in Medford, Oregon.
---
Kay Sullivan
Class of 1960 (B.S.)
Kay is a 1960 graduate and went on to Harvard for a Masters in Nutrition. She did research there for 2 years after graduation and then moved to Detroit for her husband's education, finally settling in Southern California.
"In those days it was impossible to get a part time job in nutrition, although I did some volunteer work and taught at the local senior retirement community for a while. While I was at Harvard, the Nutrition Dept. got their first computer and I volunteered to learn to program it to analyze our data. That led to my "real" career in computer technology. I worked as the Director of Info Systems for the School of Business for 11 years at Cal State Fullerton and then 5 years as a systems analyst in the financial offices. Now, I´m happily retired!"
---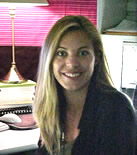 Beth Carlton Tohill
Class of 2000 (Ph.D.)
Beth is currently working as a Nutritional Epidemiologist in the Division of Nutrition and Physical Activity at the Centers for Disease Control and Prevention.
"I work on fruit and vegetable consumption and weight, translation of science into practice (as it relates to obesity prevention and control), and other nutritional aspects of the obese and overweight. I also am involved in a randomized control trial in Malawi that is looking to reduce maternal to child HIV transmission through either a drug or nutrition intervention. "
"The PIN classes helped me become an epidemiologist, which I love. The professors not only taught me information, but gave me great life and career skills."
---
Jennifer Trapp
Class of 1983 (M.D.)
In addition to working full time as a Family Physician, Dr. Trapp has lectured to physicians a number of times on Obesity and Metabolic Syndrome. She also has a special interest in detecting and managing vitamin deficiencies in patients who have undergone gastric bypass surgery.
---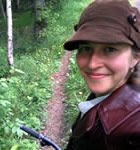 Rainbow Vogt
Class of 2006 (Ph.D.)
Since graduating in 2006, Rainbow traveled to India where she studied methods in indigenous medicine and agriculture. Back in the States, she conducted research in health and disease prevention at the Stanford Prevention Research Center and at the University of Southern California School of Policy, Planning, and Development. Rainbow has also become a certified practitioner in Jin Shin Jyutsu and recently opened a practice in Davis. She currently holds a nutrition faculty position at the American University of Complementary Medicine.
---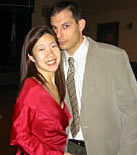 Janice Wang-Polagruto
Class of 2003 (Ph.D.)
Janice is currently employed as a Clinical Research Coordinator in the Department of Neurological Surgery, UC Davis Medical Center. She manages and coordinates head injury research studies involving patients at UC Davis Medical Center.
"I had the unique opportunity to work with industry while I was a graduate student and post-doc in the Nutrition Department. I managed, conducted and supervised clinical research studies, which helped me to gain the experience that I apply today in my current line of work."
"John (a graduate of the department as well) and I are expecting our first child in May (2005)!"
---
Bev Baird White
Class of 1978
Bev decided to go to graduate school after sending her two sons off to college. She is half way through the Ph.D. program in Nutrition at Oregon State University. Bev writes, "I particularly enjoyed your article on Liz Applegate, since I´m interested in non-traditional teaching methods."