Welcome to the webpage for the Ragle Human Nutrition Center (HNC) on the University of California, Davis campus.
The Ragle HNC is a part of the UC Davis Department of Nutrition and its mission is to facilitate the ability of investigators to conduct clinical trials with human subjects to investigate relationships of food components and essential nutrients to health and wellness promotion. This is consistent with the Nutrition Department goals:
The generation of new information at the state of prevailing science
The training of future nutrition scientists
The transfer of nutrition knowledge in a broad public context
The Ragle HNC provides a unique setting to foster scientific collaboration among campus nutrition scientists examining a variety of research questions concerning the role of food in the prevention of disease and promotion of human health. These efforts are supported in part by funds established by the Vitamin Settlement Grant and by an endowment from the Ragle family.
Facilities
The Ragle HNC is designed to meet the needs of investigators of the Department of Nutrition at UC Davis to carry out short- and long-term clinical research. The HNC is housed in approximately 5,000 sq. ft. of space in the Academic Surge Building on the UC Davis campus. The facility is equipped with a full kitchen and dining room, procedure rooms, and subject restroom. Also included is a specimen processing laboratory and office space. The facility can provide phlebotomy support that meets the current State of California requirements for CPT1 certification.
To request use of the facilities for a human nutrition study, please submit a use request to the faculty Ragle coordinator (see Ragle Clinical Study Initiation and Approval Form) and a current IRB approved protocol (Description Of Study and Consent Form) prior to initiating the study. Investigators are to provide their own study supplies as needed for phlebotomy support and day-to-day running of their study. Upon study approval, please contact the staff Ragle coordinator to schedule your study. Schedules for the Ragle HNC may be viewed by investigators on the Nutrition Department reservation calendar system (please contact the Ragle Coordinator to request access to the reservation calendars).
The following rooms can be reserved for research studies; a brief description follows: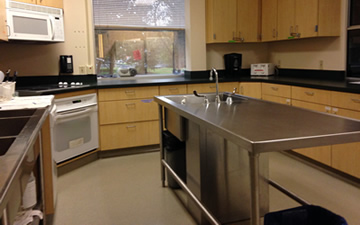 Kitchen (1283H)
The kitchen is used for metabolic meal and test food production for research projects that involve provision of foods to volunteer subjects. The kitchen is equipped with a stove top oven and a microwave; a three-compartment sink, and refrigerator/freezer space. A linen service supplies glass and mop towels and laboratory coats that are for kitchen use only. A limited amount of temporary storage is available; however, we ask that upon completion of your study all study-related items are stored elsewhere. All personnel must be trained in kitchen safety by Ragle personnel prior to using the kitchen.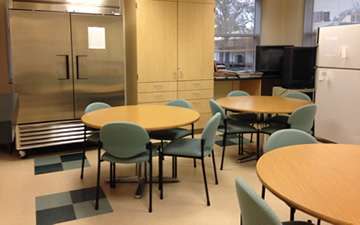 Dining Room (1283F)
Four tables that seat about 3-4 people each are available for service and consumption of study-related food and beverages, study consenting activities, or completion of study-related questionnaires by research participants.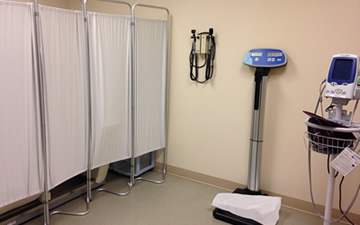 Procedure room (1283J)
This room has a reclining phlebotomy chair and room to measure vital signs, such as blood pressure, and can be used for private one-on-one consenting.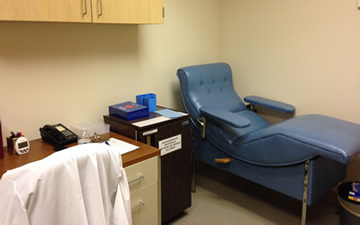 Phlebotomy Room (1283G)
This room has an upright phlebotomy chair and is the primary phlebotomy room in the facility typically used by the Ragle phlebotomist.
Clinical Bed Room (1283K)
This room has two beds that can be used for phlebotomy or vascular studies. A linen service provides sheets.
Clinical laboratory (1283O)
This room has a biological safety cabinet and clinical centrifuge that are available for use.
Parking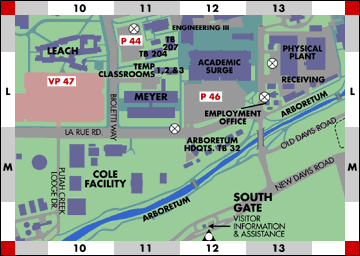 Two parking spaces designated "Parking by Special Permit Only" are available for study volunteers for up to 2 hours. Both spaces are located in the northwest corner of lot #46. These permits are issued by studies for their study volunteers.

One-day visitor parking permits or an all-day ParkMobile parking code will be issued to study volunteers whose research visit is longer than 2 hours. The "Special Permit Spaces" are not for all day parking.

Highway driving directions to the Ragle HNC may also be found online.
Hours
The normal operating hours for Ragle HNC are Monday-Friday 7:00 AM – 5:00 PM. Arrangements can be made to use the facility outside of the normal hours. The facility is not available for overnight studies involving human subjects.
Courier service to the UCDMC Pathology Lab
A pathology courier picks up specimens from the Ragle HNC (1283G Academic Surge) for transport to the UCDMC Pathology Laboratory, Monday-Friday at approximately 4:00 pm. The courier carries dry ice if samples must be kept frozen. Please contact the staff Ragle coordinator for more information about establishing a Bulk Account, lab requisitions, and procedures prior to dropping off specimens for pick-up.
Resources for Ragle Researchers
Ragle Clinical Study Initiation and Approval Form (MS Word format)
Contacts
Ragle Human Nutrition Research Center
Dr. Francene Steinberg, Ragle Committee Chairperson, 752-0160, fmsteinberg@ucdavis.edu
Jody Randolph, Ragle Coordinator, 752-7620,  jmrandolph@ucdavis.edu
Human Lactation Center
M. Jane Heinig, Ph.D., Executive Director, 1283D, 752-8681, mjheinig@ucdavis.edu
Jennifer Bañuelos, Community Health Program Rep, 1283C, 752-1629, jenbanuelos@ucdavis.edu