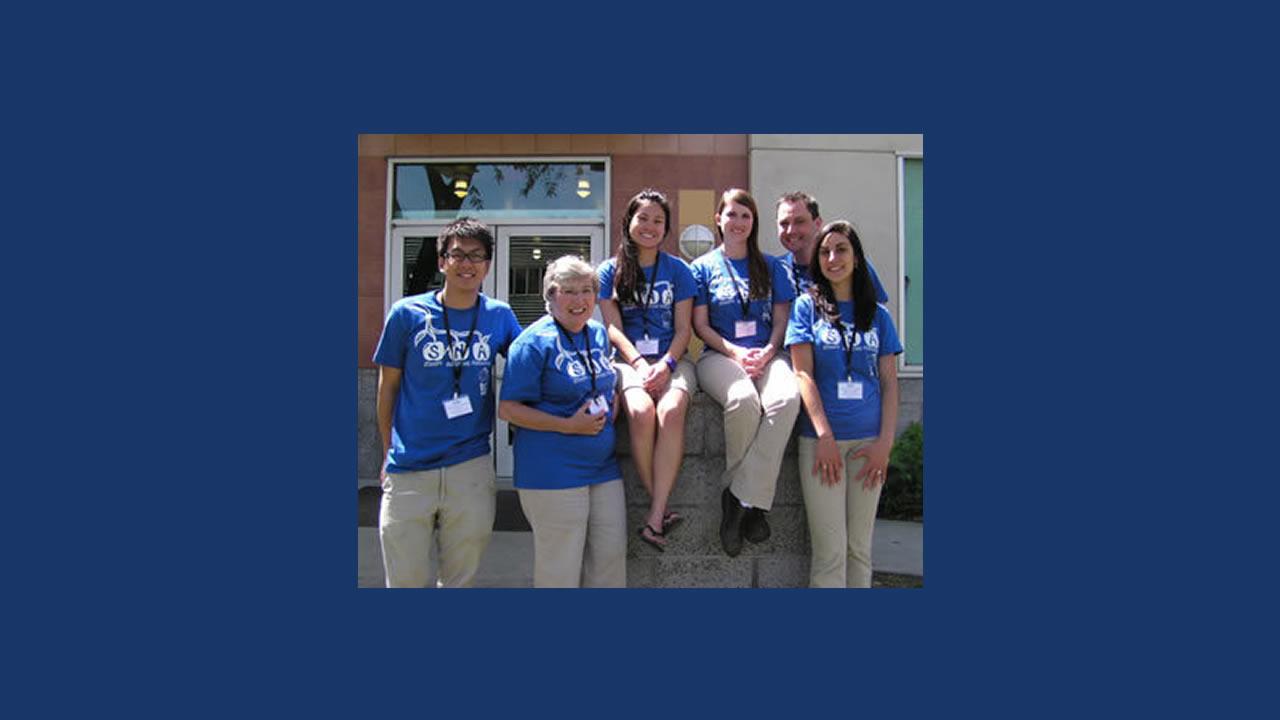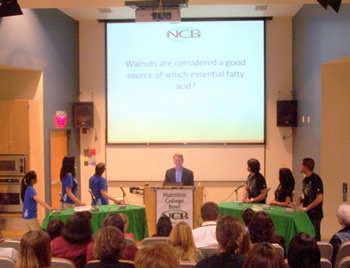 UC Davis clinical nutrition majors Stephanie Ong, Chi Lee, Emily Elliott, and Nancy Guardino recently earned 2nd place in the 9th Annual Nutrition College Bowl competition. The Nutrition College Bowl (NCB) gives nutrition and dietetics students a way to demonstrate their knowledge through competition, while encouraging a spirit of teamwork, enthusiasm for learning, and a sense of community among participants.
This year's competition was held on April 16th, 2011 and was hosted by the Marilyn Magaram Center for Food Science, Nutrition, and Dietetics at California State University, Northridge. Fifteen teams participated from more schools than ever before: Arizona State University, Cal Poly San Luis Obispo, CSU Chico, CSU Fresno, CSU Long Beach, CSU Los Angeles, CSU Northridge, CSU San Bernardino, Central Washington University, Pepperdine University, Point Loma Nazarene University, San Diego State University, Seattle Pacific University, UC Berkeley, and UC Davis.
In addition to building students' knowledge in the fields of nutrition, dietetics, and food science and management, the Nutrition College Bowl strives to promote teamwork and leadership, and to enhance critical thinking.
"Competing in the Nutrition College Bowl was a highlight of my senior year," said 4th year Clinical Nutrition student Stephanie Ong. "My favorite part was the closeness and bond formed between the teammates." Ong noted that the UC Davis team prepared for the competition with 2 practices a week, which helped to create the strong sense of team spirit that she felt contributed to their success.
Ong's goal is to become a Registered Dietitian and to be able to work with children or maternity patients. She hopes to become a board certified lactation consultant at some point in her career.
Ong was joined by three other exemplary UC Davis students who are majoring in Clinical Nutrition.
Nancy Guardino is a clinical nutrition major in her final year at UC Davis. Nancy has a passion for both clinical nutrition and nutrition research, and is very interested in maternal and infant nutrition. Currently, she is an intern at the Western Human Nutrition Research Center and at the UC Davis Human Lactation Center. Nancy also studied nutrition while abroad for a semester, at Wageningen University in the Netherlands. "NCB was a great experience," says Nancy. "Our team had a lot of spirit and camaraderie. We had fun getting together to practice and study and had incredible help and support from Dustin Burnett and Nancy Hudson."
Emily Elliott is a senior clinical nutrition major and the Co-President of UC Davis's Student Nutrition Association. Her passion for nutrition has not only improved the quality of her life but also her family's, and for that, she feels so fortunate. Her career goal is to become a Registered Dietitian and work in a hospital where she can help patients cope with their illnesses through nutrition.
Chi Lee is a senior of clinical nutrition at UC Davis. He set as his goal to become a Registered Dietitian specialized in pediatrics or sports nutrition. He also wishes to make a successful career in any field of dietetics.










UCD NCB Team Members: Stephanie Ong, Nancy Guardino, Emily Elliott, and Chi Lee
The students were coached by Nancy Hudson, Lecturer and Assistant Program Director for Dietetics at UC Davis, and Dustin Burnett, Manager of the Metabolic Kitchen and Human Feeding Lab at the USDA Western Human Nutrition Research Center at UC Davis. 
"I am incredibly proud of their achievement," commented Hudson. "The "can do" attitude of this year's Nutrition College Bowl team - supplemented by 6 weeks of hard work reviewing the entire dietetics curriculum - earned the Aggies 2nd place in this year's competition."
"Practicing to win at the NCB is like any other competition: it tests one's ability to quickly apply knowledge and skills. A unique feature of our students was their cohesion and respect not only for each other, but also for the competitors at the event," says Burnett. "Although the team studied relentlessly on their own and met twice each week at the Western Human Nutrition Research Center for rehearsing practice questions with me, what impressed me most about these students was their willingness to give up a table to one of the competing teams at event when there were not enough tables for everyone. In the end, that gesture led to other teams rooting for UC Davis when it came down to the finals. This really is not only an excellent way to refresh the basics, but it is a powerful means of showing other universities what it means to be an Aggie!"


UCD NCB Coaches: Nancy Hudson and Dustin Burnett
Contact for more information:
Nancy R. Hudson, Nutrition Department, (530) 754-9749, nhudson@ucdavis.edu
Category