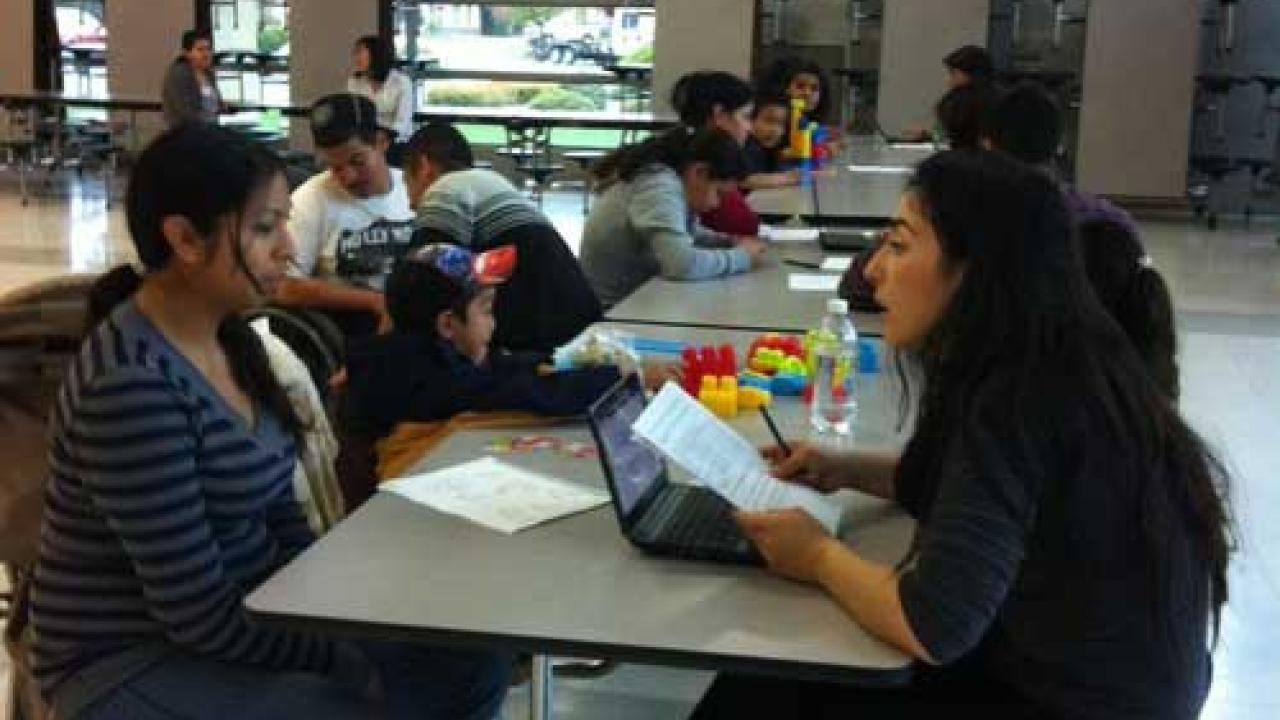 A culture of health has emerged in Firebaugh, a small, rural agricultural community located in the heart of California's Central Valley. Home to many farmworker families of Mexican descent, Firebaugh has participated for the past four years in the Niños Sanos, Familia Sana (NSFS, Healthy Children, Healthy Family) childhood obesity prevention study funded by a US Department of Agriculture, Agriculture and Food Research Initiative (AFRI) grant. Early study findings indicate a slower weight gain among obese boys, as well as a reduction in children's consumption of high-fat, high-sugar foods in Firebaugh, which served as the intervention community for the study.  Nutrition graduate students, Alberto Aguilera, Lizette Rodriguez, Mayra Muñoz-Gomez, Diana Bueno Gutierrez, Luz Vera Becerra, and Caitlin French, and public health graduate student, Michelle Byrnes, contributed to the design, implementation, and/or evaluation of this study, working under the supervision of the Nutrition team leader, Dr. Lucia Kaiser. 
During three years of this five-year, AFRI-funded study, Firebaugh participants received monthly $25 vouchers to purchase fruit and vegetables at a local store. They also participated in monthly family nutrition education classes, developed by the Nutrition team. Firebaugh school children received a school-based enhanced physical activity program and classroom nutrition education. The lead agency—the University of California at Davis—leveraged the AFRI funds with resources from the Supplemental Nutrition Assistance Program Education (SNAP-Ed, UC CalFresh in California) and the Expanded Food and Nutrition Education Program (EFNEP) to provide the classroom nutrition education for children in Pre-K through Third Grade.
During the past four years, Firebaugh community leaders increased their awareness of local nutrition and physical-activity needs and have begun to initiate environmental changes and policies to sustain the positive outcomes beyond the grant term. Recently, the Firebaugh City Council re-introduced a river walk/run—last held 20 years ago--to accompany their annual July Harvest Festival/Cantaloupe Roundup.
For families whose children participated in the AFRI-funded study, this event was a memorable moment to compete for their first medals in the three-kilometer walk/run. Local businesses and growers donated bottled water and a sampling of their sweetest melons as healthy refreshments for all participants. Firebaugh City Council introduced a new incentive to vendors, who received a free booth for selling healthy foods and beverages at the festival. NSFS collaborated with the Children's Corner Preschool to provide homemade fruit-infused ice water, whole wheat waffles with yogurt and fruit, and cantaloupe smoothies, a local favorite. 
Participation in NSFS has had important long-term impact on the community of Firebaugh. City plans are underway to extend the walking path that winds along the San Joaquin River and add a nature area to encourage families to enjoy these community treasures. City Council member and local physician, Dr. Marcia Sablan, commented, "The Firebaugh City Council has a goal of showcasing the healthy lifestyle available to our community. By extending the nature path, we will enable residents to walk or run along a riverside par course with interpretive signs designed to promote fitness-goal setting." Dr. Sablan added that the city leaders' commitment to supporting healthy lifestyles resulted from Firebaugh's participation in NSFS. July's River Run and Walk drew more than 150 residents and visitors. In the wake of this success, Firebaugh is looking forward to holding a second activity event, the "Mud Run," in the fall.
Related Publications: 
Schaefer SE, Camacho-Gomez R, Sadeghi B, Kaiser L, German JB, de la Torre A. Assessing Child Obesity and Physical Activity in a Hard-to-Reach Population in California's Central Valley, 2012–2013. Prev Chronic Dis 2015;12:140577. [Article]
Kaiser LL; Martinez J, Horowitz M,  Lamp C, Johns M,  Espinoza D,  Byrnes M, Muñoz Gomez M, Aguilera A,  Adela de la Torre, Adaptation of a culturally-relevant nutrition and physical activity program for low-income, Mexican-origin parents with young children Prev Chronic Dis 2015;12:140591. [Article]
Kaiser LL, Aguilera A, Horowitz M, Lamp C, Johns M, Gomez-Camacho, Ontai, de la Torre. Correlates of food patterns in young Latino children at high-risk of obesity. Public Health Nutrition. [Article]
Contact: 
Lucia L. Kaiser, Ph.D.
Cooperative Extension Specialist
llkaiser@ucdavis.edu
Category