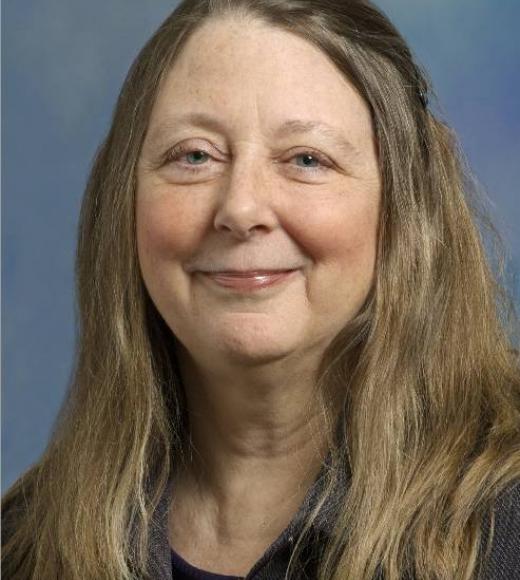 Position Title

Research Chemist, USDA ARS WHNRC

Adjunct Professor
Bio
Education
Ph.D., Department of Nutritional Sciences, University of Wisconsin
Research Interests
My research interests revolve around understanding the relationships between the foods we eat, metabolic health, and body weight.  Current areas of investigation include evaluating the benefits of consuming important foods such as whole grains or dairy products on energy expenditure, substrate oxidation, satiety and chronic disease risk factors; determining optimal sources and amounts of different types of dietary carbohydrates that contribute to satiety, healthy eating behaviors, and reduce risk of chronic disease; and evaluating benefits of an active lifestyle in terms of preventing obesity and related chronic diseases. 
My research objectives are:
Determine how the amount and type of dietary carbohydrates affect metabolic health and food intake.
Assess the ability of individuals to adhere to the recommended level of physical activity for preventing adult weight gain in the current Dietary Guidelines.
In overweight adult women, determine if successful adherence to the physical activity recommendation significantly impacts food intake, insulin sensitivity, and the effects of psychosocial stress.
Determine how eating breakfast contributes to a healthy body weight.
Contribute to determination of the safe, upper limits for consumption of sugars or sweeteners by normal weight, overweight and obese adults to prevent undesirable health effects such as weight gain, development of abdominal obesity, or disorders of lipid metabolism or ingestive behavior.
Research Accomplishments
Found that whole body metabolism of women with high levels of dietary restraint is geared to use carbohydrate for energy and has a reduced capacity to burn fat. This may be indicative of a metabolism that favors storage of fat and contributes to the ease of weight regain in women who chronically restrain food intake.
Provided the first evidence in humans that leptin influences hunger during conditions of calorie restriction: during a long-term energy restriction, women who reported feeling most hungry had the largest relative decrease in circulating leptin levels.
Found that consumption of a meal based on whole grains reduced circulating insulin levels, increased the use of fat for energy production, and altered the distribution of apoprotein components of lipoproteins, suggesting that circulating lipids might be cleared from the blood more effectively with whole-grain carbohydrates.
Developed and tested an electronic activity log that can be used to document physical activities in free-living volunteers.  
In collaboration with UC-Davis scientist, Dr. Peter Havel, determined that consumption of large quantities of beverages sweetened with fructose resulted in alterations in hormones associated with hunger, including insulin, leptin, and ghrelin. Long-term consumption of these fructose-sweetened beverages also caused elevated circulating triglyceride concentrations, reduced ability to burn fat for energy, decreased resting metabolic rate, and evidence of insulin resistance.
Selected Publications
Witbracht M, Keim NL, Forester S, Widaman A, Laugero K. Female breakfast skippers display a disrupted cortisol rhythm and elevated blood pressure. Physiol Behav 2015;140:215-21. [PubMed]
Stanhope KL, Medici V, Bremer AA, Lee V, Lam HD, Nunez MV, Chen GX, Keim NL, Havel PJ. A dose-response study of consuming high-fructose corn syrup-sweetened beverages on lipid/lipoprotein risk factors for cardiovascular disease in young adults. Am J Clin Nutr 2015;101(6):1144-54. [PubMed]
Piccolo BD, Keim NL, Fiehn O, Adams SH, Van Loan MD, Newman JW. Habitual physical activity and plasma metabolomic patterns distinguish individuals with low vs. high weight loss during controlled energy restriction. J Nutr 2015;145(4):681-90. [PubMed]
Labouesse MA, Gertz ER, Piccolo BD, Souza EC, Schuster GU, Witbracht MG, Woodhouse LR, Adams SH, Keim NL, Van Loan MD. Associations among endocrine, inflammatory, and bone markers, body composition and weight loss induced bone loss. Bone 2014;64:138-46. [PubMed]
Krishnan S, Gustafson MB, Campbell C, Gaikwad NW, Keim NL. Association between circulating endogenous androgens and insulin sensitivity changes with exercise training in midlife women. Menopause 2014;21(9):967-74. [PubMed]
Keim NL, Martin RJ. Dietary whole grain-microbiota interactions: insights into mechanisms for human health. Adv Nutr 2014;5(5):556-7. [PubMed]
Campbell C, Grapov D, Fiehn O, Chandler CJ, Burnett DJ, Souza EC, Casazza GA, Gustafson MB, Keim NL, Newman JW, Hunter GR, Fernandez JR, Garvey WT, Harper ME, Hoppel CL, Meissen JK, Take K, Adams SH. Improved metabolic health alters host metabolism in parallel with changes in systemic xeno-metabolites of gut origin. PLoS One 2014;9(1):e84260. [PubMed]
Keim NL, Forester SM, Lyly M, Aaron GJ, Townsend MS. Vegetable variety is a key to improved diet quality in low-income women in California. J Acad Nutr Diet 2014;114(3):430-5. [PubMed]
Aaron GJ, Keim NL, Drewnowski A, Townsend MS. Estimating dietary costs of low-income women in California: a comparison of 2 approaches. Am J Clin Nutr 2013;97(4):835-41. [PubMed]
Piccolo BD, Dolnikowski G, Seyoum E, Thomas AP, Gertz ER, Souza EC, Woodhouse LR, Newman JW, Keim NL, Adams SH, Van Loan MD. Association between subcutaneous white adipose tissue and serum 25-hydroxyvitamin D in overweight and obese adults. Nutrients 2013;5(9):3352-66. [PubMed]
Rezvani R, Cianflone K, McGahan JP, Berglund L, Bremer AA, Keim NL, Griffen SC, Havel PJ, Stanhope KL. Effects of sugar-sweetened beverages on plasma acylation stimulating protein, leptin, and adiponectin: Relationships with Metabolic Outcomes. Obesity (Silver Spring) 2013. [PubMed]
Witbracht MG, Van Loan M, Adams SH, Keim NL, Laugero KD. Dairy food consumption and meal-induced cortisol response interacted to influence weight loss in overweight women undergoing a 12-week, meal-controlled, weight loss intervention. J Nutr 2013;143(1):46-52. [PubMed]
Witbracht MG, Laugero KD, Van Loan MD, Adams SH, Keim NL. Performance on the Iowa Gambling Task is related to magnitude of weight loss and salivary cortisol in a diet-induced weight loss intervention in overweight women. Physiol Behav 2012;106(2):291-7. [PubMed]
Cox CL, Stanhope KL, Schwarz JM, Graham JL, Hatcher B, Griffen SC, Bremer AA, Berglund L, McGahan JP, Keim NL, Havel PJ. Consumption of fructose- but not glucose-sweetened beverages for 10 weeks increases circulating concentrations of uric acid, retinol binding protein-4, and gamma-glutamyl transferase activity in overweight/obese humans. Nutr Metab (Lond) 2012;9(1):68. [PubMed]
Cox CL, Stanhope KL, Schwarz JM, Graham JL, Hatcher B, Griffen SC, Bremer AA, Berglund L, McGahan JP, Havel PJ, Keim NL. Consumption of fructose-sweetened beverages for 10 weeks reduces net fat oxidation and energy expenditure in overweight/obese men and women. Eur J Clin Nutr 2012;66(2):201-8. [PubMed]
Krishnan S, Newman JW, Hembrooke TA, Keim NL. Variation in metabolic responses to meal challenges differing in glycemic index in healthy women: Is it meaningful? Nutr Metab (Lond) 2012;9:26. [PubMed]
Cox CL, Stanhope KL, Schwarz JM, Graham JL, Hatcher B, Griffen SC, Bremer AA, Berglund L, McGahan JP, Keim NL, Havel PJ. Circulating concentrations of monocyte chemoattractant protein-1, plasminogen activator inhibitor-1, and soluble leukocyte adhesion molecule-1 in overweight/obese men and women consuming fructose- or glucose-sweetened beverages for 10 weeks. J Clin Endocrinol Metab 2011;96(12):E2034-8. [PubMed]
Stanhope KL, Bremer AA, Medici V, Nakajima K, Ito Y, Nakano T, Chen G, Fong TH, Lee V, Menorca RI, Keim NL, Havel PJ. Consumption of fructose and high fructose corn syrup increase postprandial triglycerides, LDL-cholesterol, and apolipoprotein-B in young men and women. J Clin Endocrinol Metab 2011;96(10):E1596-605. [PubMed]
Stanhope KL, Griffen SC, Bremer AA, Vink RG, Schaefer EJ, Nakajima K, Schwarz JM, Beysen C, Berglund L, Keim NL, Havel PJ. Metabolic responses to prolonged consumption of glucose- and fructose-sweetened beverages are not associated with postprandial or 24-h glucose and insulin excursions. Am J Clin Nutr 2011;94(1):112-9. [PubMed]
Van Loan MD, Keim NL, Adams SH, Souza E, Woodhouse LR, Thomas A, Witbracht M, Gertz ER, Piccolo B, Bremer AA, Spurlock M. Dairy Foods in a Moderate Energy Restricted Diet Do Not Enhance Central Fat, Weight, and Intra-Abdominal Adipose Tissue Losses nor Reduce Adipocyte Size or Inflammatory Markers in Overweight and Obese Adults: A Controlled Feeding Study. J Obes 2011;2011:989657. [PubMed]
Gurusinghe D, Gill S, Almario RU, Lee J, Horn WF, Keim NL, Kim K, Karakas SE. In polycystic ovary syndrome, adrenal steroids are regulated differently in the morning versus in response to nutrient intake. Fertil Steril 2010;93(4):1192-9. [PubMed]
Stanhope KL, Schwarz JM, Keim NL, Griffen SC, Bremer AA, Graham JL, Hatcher B, Cox CL, Dyachenko A, Zhang W, McGahan JP, Seibert A, Krauss RM, Chiu S, Schaefer EJ, Ai M, Otokozawa S, Nakajima K, Nakano T, Beysen C, Hellerstein MK, Berglund L, Havel PJ. Consuming fructose-sweetened, not glucose-sweetened, beverages increases visceral adiposity and lipids and decreases insulin sensitivity in overweight/obese humans. J Clin Invest 2009;119(5):1322-34. [PubMed]
Teff KL, Grudziak J, Townsend RR, Dunn TN, Grant RW, Adams SH, Keim NL, Cummings BP, Stanhope KL, Havel PJ. Endocrine and metabolic effects of consuming fructose- and glucose-sweetened beverages with meals in obese men and women: influence of insulin resistance on plasma triglyceride responses. J Clin Endocrinol Metab 2009;94(5):1562-9. [PubMed]
Townsend MS, Aaron GJ, Monsivais P, Keim NL, Drewnowski A. Less-energy-dense diets of low-income women in California are associated with higher energy-adjusted diet costs. Am J Clin Nutr 2009;89(4):1220-6. [PubMed]
Burton-Freeman BM, Keim NL. Glycemic index, cholecystokinin, satiety and disinhibition: is there an unappreciated paradox for overweight women? Int J Obes (Lond) 2008;32(11):1647-54. [PubMed]
Hawkes WC, Keim NL, Diane Richter B, Gustafson MB, Gale B, Mackey BE, Bonnel EL. High-selenium yeast supplementation in free-living North American men: no effect on thyroid hormone metabolism or body composition. J Trace Elem Med Biol 2008;22(2):131-42. [PubMed]
Stanhope KL, Griffen SC, Bair BR, Swarbrick MM, Keim NL, Havel PJ. Twenty-four-hour endocrine and metabolic profiles following consumption of high-fructose corn syrup-, sucrose-, fructose-, and glucose-sweetened beverages with meals. Am J Clin Nutr 2008;87(5):1194-203. [PubMed]
Swarbrick MM, Stanhope KL, Elliott SS, Graham JL, Krauss RM, Christiansen MP, Griffen SC, Keim NL, Havel PJ. Consumption of fructose-sweetened beverages for 10 weeks increases postprandial triacylglycerol and apolipoprotein-B concentrations in overweight and obese women. Br J Nutr 2008;100(5):947-52. [PubMed]
Motton DD, Keim NL, Tenorio FA, Horn WF, Rutledge JC. Postprandial monocyte activation in response to meals with high and low glycemic loads in overweight women. Am J Clin Nutr 2007;85(1):60-5. [PubMed]
Bacon L, Stern JS, Van Loan MD, Keim NL. Size acceptance and intuitive eating improve health for obese, female chronic dieters. J Am Diet Assoc 2005;105(6):929-36. [PubMed]
Chan JW, Motton D, Rutledge JC, Keim NL, Huser T. Raman spectroscopic analysis of biochemical changes in individual triglyceride-rich lipoproteins in the pre- and postprandial state. Anal Chem 2005;77(18):5870-6. [PubMed]
Keim NL, Blanton CA, Kretsch MJ. America's obesity epidemic: measuring physical activity to promote an active lifestyle. J Am Diet Assoc 2004;104(9):1398-409. [PubMed]
Bacon L, Stern JS, Keim NL, Van Loan MD. Low bone mass in premenopausal chronic dieting obese women. Eur J Clin Nutr 2004;58(6):966-71. [PubMed]
Keim NL, Horn WF. Restrained eating behavior and the metabolic response to dietary energy restriction in women. Obes Res 2004;12(1):141-9. [PubMed]
Teff KL, Elliott SS, Tschop M, Kieffer TJ, Rader D, Heiman M, Townsend RR, Keim NL, D'Alessio D, Havel PJ. Dietary fructose reduces circulating insulin and leptin, attenuates postprandial suppression of ghrelin, and increases triglycerides in women. J Clin Endocrinol Metab 2004;89(6):2963-72. [PubMed]
Hawkes WC, Keim NL. Dietary selenium intake modulates thyroid hormone and energy metabolism in men. J Nutr 2003;133(11):3443-8. [PubMed]
Bacon L, Keim NL, Van Loan MD, Derricote M, Gale B, Kazaks A, Stern JS. Evaluating a 'non-diet' wellness intervention for improvement of metabolic fitness, psychological well-being and eating and activity behaviors. Int J Obes Relat Metab Disord 2002;26(6):854-65. [PubMed]
Elliott SS, Keim NL, Stern JS, Teff K, Havel PJ. Fructose, weight gain, and the insulin resistance syndrome. Am J Clin Nutr 2002;76(5):911-22. [PubMed]
Zambell KL, Horn WF, Keim NL. Conjugated linoleic acid supplementation in humans: effects on fatty acid and glycerol kinetics. Lipids 2001;36(8):767-72. [PubMed]
Medina EA, Horn WF, Keim NL, Havel PJ, Benito P, Kelley DS, Nelson GJ, Erickson KL. Conjugated linoleic acid supplementation in humans: effects on circulating leptin concentrations and appetite. Lipids 2000;35(7):783-8. [PubMed]
Van Loan MD, Keim NL. Influence of cognitive eating restraint on total-body measurements of bone mineral density and bone mineral content in premenopausal women aged 18-45 y: a cross-sectional study. Am J Clin Nutr 2000;72(3):837-43. [PubMed]
Keim NL, Stern JS, Havel PJ. Relation between circulating leptin concentrations and appetite during a prolonged, moderate energy deficit in women. Am J Clin Nutr 1998;68(4):794-801. [PubMed]
Keim NL, Belko AZ, Barbieri TF. Body fat percentage and gender: associations with exercise energy expenditure, substrate utilization, and mechanical work efficiency. Int J Sport Nutr 1996;6(4):356-69. [PubMed]
Keim NL, Canty DJ, Barbieri TF, Wu MM. Effect of exercise and dietary restraint on energy intake of reduced-obese women. Appetite 1996;26(1):55-70. [PubMed]
Van Loan MD, Keim NL, Berg K, Mayclin PL. Evaluation of body composition by dual energy x-ray absorptiometry and two different software packages. Med Sci Sports Exerc 1995;27(4):587-91. [PubMed]
Dixon ZR, Burri BJ, Clifford A, Frankel EN, Schneeman BO, Parks E, Keim NL, Barbieri T, Wu MM, Fong AK, et al. Effects of a carotene-deficient diet on measures of oxidative susceptibility and superoxide dismutase activity in adult women. Free Radic Biol Med 1994;17(6):537-44. [PubMed]
Keim NL, Anderson BL, Barbieri TF, Wu MM. Moderate diet restriction alters the substrate and hormone response to exercise. Med Sci Sports Exerc 1994;26(5):599-604. [PubMed]
Van Loan MD, Keim NL, Barbieri TF, Mayclin PL. The effects of endurance exercise with and without a reduction of energy intake on fat-free mass and the composition of fat-free mass in obese women. Eur J Clin Nutr 1994;48(6):408-15. [PubMed]
Keim NL, Barbieri TF, Van Loan M. Physiological and biochemical variables associated with body fat loss in overweight women. Int J Obes 1991;15(4):283-93. [PubMed]
Burri BJ, Neidlinger TR, Van Loan M, Keim NL. Effect of low-calorie diets on plasma retinol-binding protein concentrations in overweight women. J Nutr Biochem 1990;1(9):484-6. [PubMed]
Keim NL, Barbieri TF, Belko AZ. The effect of exercise on energy intake and body composition in overweight women. Int J Obes 1990;14(4):335-46. [PubMed]
Keim NL, Barbieri TF, Van Loan M. Comparison of conductivity, impedance and density methods for body composition assessment of obese women. Basic Life Sci 1990;55:227-9. [PubMed]
Hine RJ, Keim NL, Hegstrand LR. Effect of total parenteral nutrition on histamine in the rat brain and other tissues. In Vivo 1990;4(4):239-42. [PubMed]
Keim NL, Barbieri TF, Van Loan MD, Anderson BL. Energy expenditure and physical performance in overweight women: response to training with and without caloric restriction. Metabolism 1990;39(6):651-8. [PubMed]
Newby MJ, Keim NL, Brown DL. Body composition of adult cystic fibrosis patients and control subjects as determined by densitometry, bioelectrical impedance, total-body electrical conductivity, skinfold measurements, and deuterium oxide dilution. Am J Clin Nutr 1990;52(2):209-13. [PubMed]
Keim NL, Mayclin PL, Taylor SJ, Brown DL. Total-body electrical conductivity method for estimating body composition: validation by direct carcass analysis of pigs. Am J Clin Nutr 1988;47(2):180-5. [PubMed]
Keim NL. Nutritional effectors of hepatic steatosis induced by parenteral nutrition in the rat. JPEN J Parenter Enteral Nutr 1987;11(1):18-22. [PubMed]
Keim NL, Luby MH, Braun SR, Martin AM, Dixon RM. Dietary evaluation of outpatients with chronic obstructive pulmonary disease. J Am Diet Assoc 1986;86(7):902-6. [PubMed]
Braun SR, Dixon RM, Keim NL, Luby M, Anderegg A, Shrago ES. Predictive clinical value of nutritional assessment factors in COPD. Chest 1984;85(3):353-7. [PubMed]
Braun SR, Keim NL, Dixon RM, Clagnaz P, Anderegg A, Shrago ES. The prevalence and determinants of nutritional changes in chronic obstructive pulmonary disease. Chest 1984;86(4):558-63. [PubMed]
Dixon RM, Borden EC, Keim NL, Anderson S, Spennetta TL, Tormey DC, Shrago E. Decreases in serum high-density-lipoprotein cholesterol and total cholesterol resulting from naturally produced and recombinant DNA-derived leukocyte interferons. Metabolism 1984;33(5):400-4. [PubMed]
Keim NL, Mares-Perlman JA. Development of hepatic steatosis and essential fatty acid deficiency in rats with hypercaloric, fat-free parenteral nutrition. J Nutr 1984;114(10):1807-15. [PubMed]
Keim NL, Marlett JA, Amundson CH, Hagemann LD. Comparison of rat hepatic cholesterol biosynthesis during skim milk versus whey permeate ingestion. J Dairy Sci 1982;65(12):2274-80. [PubMed]
Marlett JA, Hagemann L, Amundson CH, Keim NL, Jorgensen N. Plasma and hepatic cholesterol and hepatic HMG CoA reductase levels in rats fed fluid or powdered skim milk. Atherosclerosis 1981;39(2):243-53. [PubMed]
Keim NL, Marlett JA. Intestinal secretion of lipids and lipoproteins during carbohydrate absorption in the rat. J Nutr 1980;110(7):1354-64. [PubMed]
Keim NL, Van Loan MD, Horn WF, Barbieri TF, Mayclin PL. Weight loss is greater with consumption of large morning meals and fat-free mass is preserved with large evening meals in women on a controlled weight reduction regimen. J Nutr 1997;127(1):75-82. [PubMed]