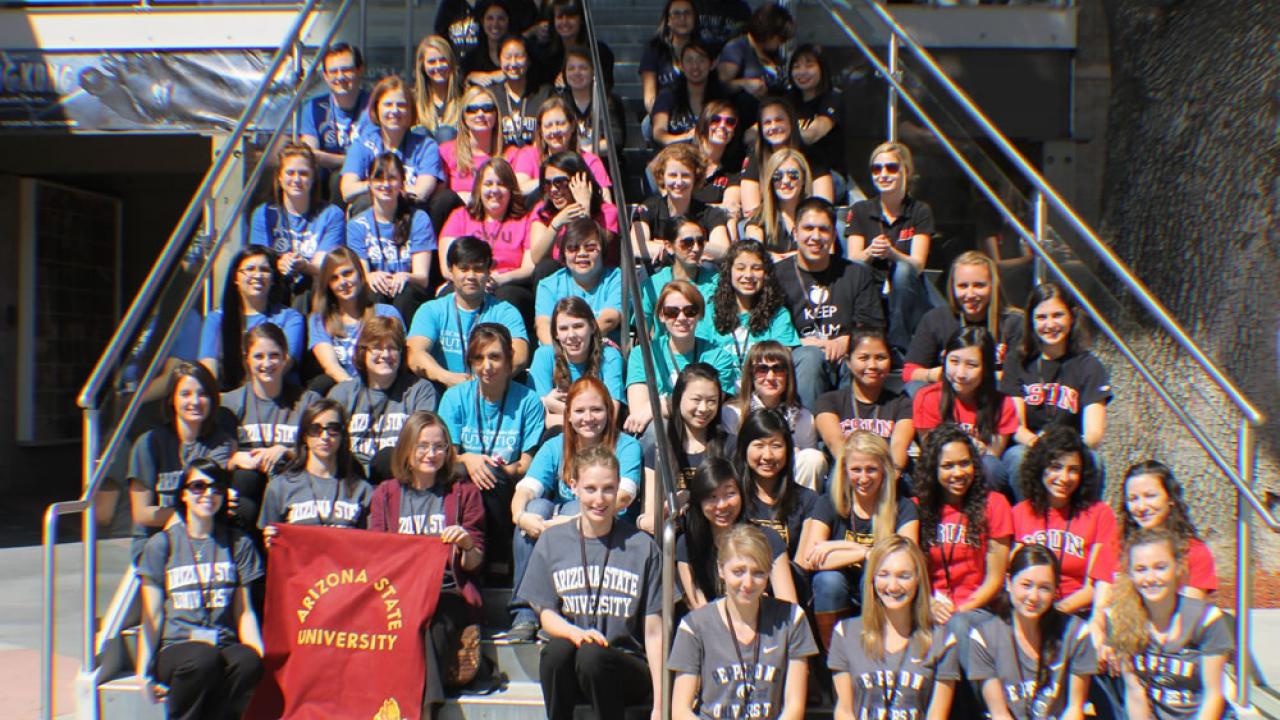 UC Davis clinical nutrition majors Nicole Kundel-Greaney, Ashley Labrier, Rachael Parker, and Jaclyn Rangel earned 3rd place in the 10th Annual Nutrition College Bowl competition. The Nutrition College Bowl (NCB) gives nutrition and dietetics students a way to demonstrate their knowledge through competition, while encouraging a spirit of teamwork, enthusiasm for learning, and a sense of community among participants.
The competition was held on March 10th, 2012 and was hosted by the Marilyn Magaram Center for Food Science, Nutrition, and Dietetics at California State University, Northridge. Eleven teams participated from the following schools: Arizona State University, Cal Poly San Luis Obispo, CSU Chico, CSU Fresno, CSU Los Angeles, CSU Northridge, CSU San Bernardino, Central Washington University, Pepperdine University, UC Berkeley, and UC Davis.
In addition to building students' knowledge in the fields of nutrition, dietetics, food science, foodservice, and management, the Nutrition College Bowl strives to promote teamwork and leadership, and to enhance critical thinking.
The Nutrition College Bowl was a highlight for the participants' senior year. The UC Davis team prepared for the competition with two practices a week, reviewing the entire dietetics curriculum. This helped create a strong sense of team spirit that contributed to their success, earning the Aggies 3rd place in the 2012 competition.
The students were organized and advised by Joan Frank, Lecturer and Assistant Program Director for Dietetics at UC Davis, and coached by Dustin Burnett, Manager of the Metabolic Kitchen and Human Feeding Lab at the USDA Western Human Nutrition Research Center at UC Davis.
"Practicing to win at the NCB is like any other competition: it tests one's ability to quickly apply knowledge and skills. A unique feature of our students was their cohesion and respect not only for each other, but also for the competitors at the event," says Burnett. "This really is not only an excellent way to refresh the basics, but it is a powerful means of showing other universities what it means to be an Aggie!"
Due to a lack of funding, The Marilyn Magaram Center has not hosted a Nutrition College Bowl since 2012. There are plans to reinstate the event to coincide with the California Academy of Nutrition and Dietetics' Annual Conference & Exhibition in April, 2016, in Riverside, CA.
UCD NCB Faculty Advisor: Joan Frank, MS, RDN
UCD NCB Coach: Dustin Burnett, MS, RD
Contact:
Joan Frank, MS, RDN – Nutrition Department, (530) 754-9749, jsfrank@ucdavis.edu
Category