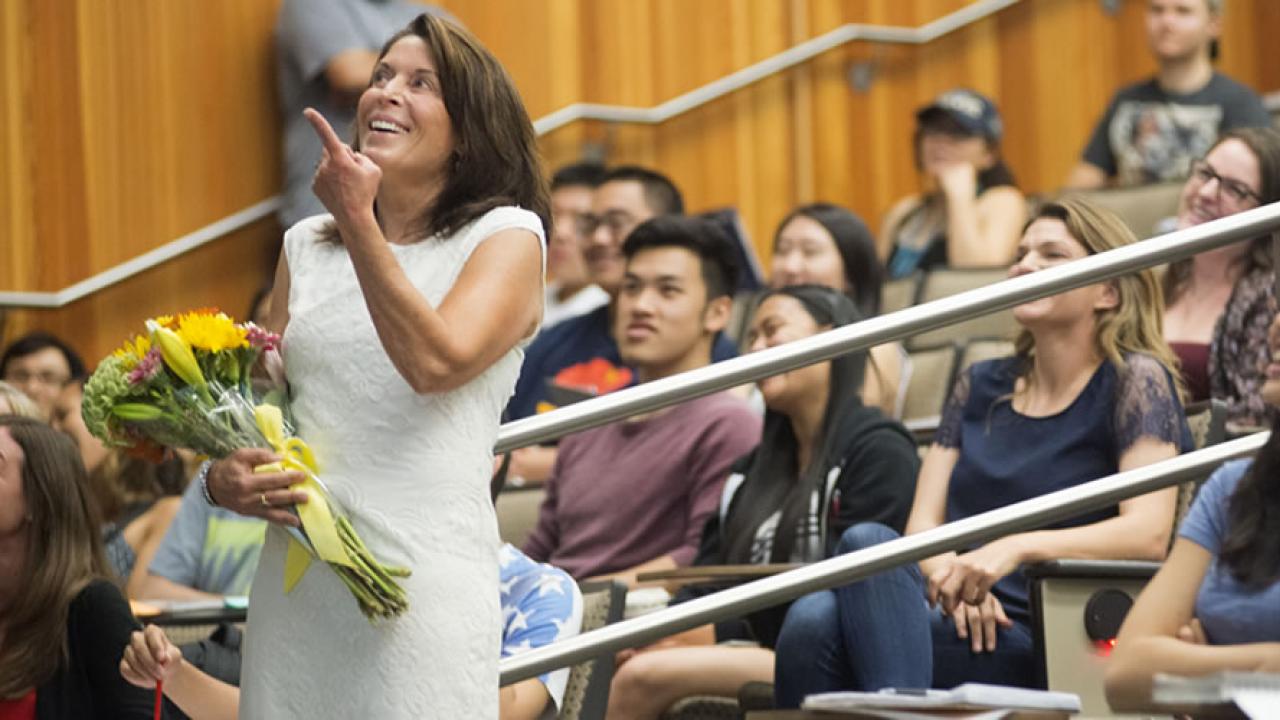 After 31 years and 60,000+ students, Dr. Liz Applegate taught her last Nutrition 10 Lecture on June 2nd, 2016. Dr. Applegate has been a fixture at UC Davis teaching the largest undergraduate course (Nutrition 10) and educating more students than any single instructor at the University of California, Davis to date. 
Dr. Applegate is known for being at the forefront of innovative teaching techniques and using technology to connect with students.  For example, she has long collaborated with campus artist Steve Oerding to integrate animations into her lecture to illustrate complex biological processes. Additionally, students were given the option of  attending "active" office hours at the ARC where they could combine a workout with meeting with Nutrition 10 TAs.  She has used Instagram challenges to get students involved and interested in healthy eating and uses Twitter to communicate with student athletes. In recent years she has also had great success implementing Nutrition 10 as a hyflex course. In her role as the Director of Sports Nutrition for UC Davis Intercollegiate Athletics, she has helped countless campus athletes tweak their diets for maximum performance. During her time at UC Davis Dr. Applegate received the Excellence in Education Award, the Excellence in Teaching Award, Distinguished Undergraduate Teaching Award, and the Distinguished Scholarly Public Service Award from the University of California. She was also recently awarded the the 2016 United States Department of Agriculture Food and Agriculture Sciences Excellence in Teaching Award.
At the end of her last Nutrition 10 class Dr. Applegate was surprised by an epic celebration that included cake, balloons, flowers, and a presentation of a video with interviews of colleagues and students. There was also a visit by Gunrock, the Cal Aggie Marching Band, and Nutrition 10 TAs dressed up as SpongeBob and a variety of fruits and vegetables. The party moved out of the classroom where the Cal Aggie Marching Band entertained the crowd and students had an opportunity to say farewell to Dr. Applegate.
What is next for Dr. Applegate as she transitions out of teaching Nutrition 10? She has been asked to design a virtual Nutrition course for the entire UC system, which is what she will be working on in the near future before she formally retires from the University. 
More on Dr. Applegate:
Category