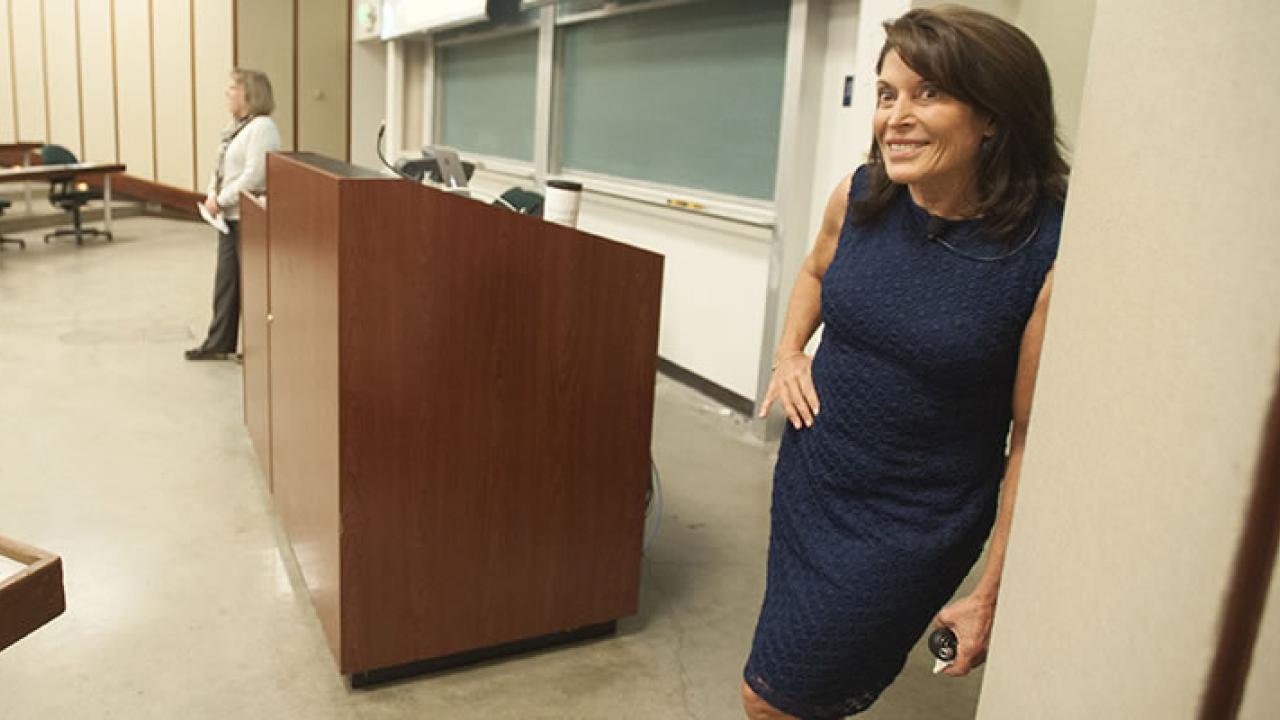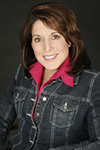 Dr. Liz Applegate, a nationally renowned expert on nutrition and fitness, is a faculty member of the Nutrition Department at the University of California, Davis. Her enthusiasm and informal style make her undergraduate nutrition classes the nation's largest, with enrollments exceeding 2,000 annually.
"The thrill of interacting with students" is Dr. Applegate´s favorite part of her job. "It´s exciting to get e-mails that say, 'I lost 20 pounds after I took your course.' I think, wow, delivering this material made a difference."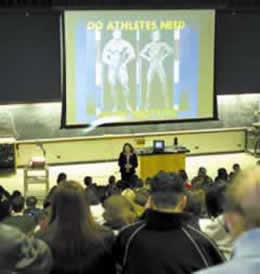 UC Davis´s Nutrition 10 course, Discoveries and Concepts in Nutrition, is one of the country´s most popular undergraduate courses. The course covers the foundations of nutrition science, including nutrient digestion and metabolism, with special focus on areas relevant to college students, such as diet supplements, food labels and diet guidelines, the nutritional effects of alcohol, nutrition for athletes, and the links between nutrition and chronic disease risk.
"My emphasis is to cover basic nutrition in a way that interests students in science and brings in their own personal issues related to nutrition and health," says instructor Dr. Liz Applegate.
"If I pick up on what students really want to hear about nutrition, they learn the material much better than if they´re just memorizing facts. So I make the course as personable and applicable as possible."
Students give rave reviews to Dr. Applegate´s enthusiastic style and her extensive use of innovative classroom technologies.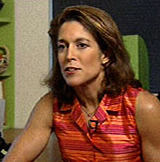 "Using PowerPoint slides during lectures allows me to communicate complicated scientific concepts because students can see the concepts sequentially," Dr. Applegate says. She uses cartoons and animations to draw analogies between the body´s machinery and everyday life: antioxidants are firefighters, DNA encodes protein on a factory assembly line, and the body´s cholesterol transport system runs like a bus service.
Lecture podcasts are a popular recent addition to the course. Podcasting, a method of distributing digital media files over the Internet, has been used since 2005 to provide students with audio recordings of Nutrition 10 classes. Lecture recordings are posted on the course Web site after each class. Students can download and listen to lectures on their computers or MP3 players.
Lecture podcasts are extremely popular with students. Students recently gave the podcasts a rating of 4.8 of a possible 5 points on course evaluations. "Podcasts are one way that we can accommodate different learning styles," says Dr. Liz Applegate, the instructor of Nutrition 10. "Podcasts let students review the parts of lecture that they didn´t understand. Students feel better in class knowing the podcast will be there."
Students whose schedules conflict with out-of-class activities such as the pre-exam review sessions also appreciate the podcasts. "Most of the class material is summarized in the review sessions," Dr. Applegate says. "Listening to a review via podcast is almost as good as being there live." She emphasizes, however, that although some students listen to the podcasts instead of coming to lectures, she doesn´t see them as a substitute for attending class. "There´s a lot to be gained in terms of engaging in the material through face-to-face instruction," she says.
In her classes, Dr. Applegate emphasizes that she doesn´t view individual foods as good or bad. "For example, I eat potato chips and In 'N Out — in perspective with other foods," she says. "Eating well isn´t about being perfect, but about finding out what food has to offer, and striking a balance between your needs, personal preferences, culture, and family experiences."
Her own balance includes lots of veggies — tomatoes are her favorite — and twice-a-day swimming, cycling or running workouts.
Dr. Applegate earned a B.S. in biochemistry and a Ph.D. in nutrition at UC Davis. During her student days, she could often be found prepping vegetables at her part-time Coffee House job.
As a faculty member, she has received the University of California´s prestigious Excellence in Education and Excellence in Teaching Awards. She is the author of several books and has written over 300 articles for national magazines. She speaks frequently at industry, athletic and scientific meetings and on international, national and local radio and television shows such as Good Morning America and the health segments on CNN and ESPN. She serves as a nutrition consultant to NBA and NFL individuals and teams and is currently the team nutritionist for the Oakland Raiders. She is also the director of sport nutrition for Intercollegiate Athletics at UC Davis.
By Erin Digitale
Contact for more information:
Elizabeth A. Applegate, Nutrition Department, (530) 752-6682, eaapplegate@ucdavis.edu
Category