This new year is extra special at UC Davis because the 100% virtual version of Nutrition 10, called Nutrition 10V, has launched! This fully online course brings students the exciting experience of Nutrition 10, but instead of coming to class students can experience Nutrition 10V from the comfort of their home.
Course Information
Nutrition 10V is available to any students (No credit will be granted to students who have completed course 10 or course 10Y or an upper-division nutrition course) and provides GE credit: SciEng| SE,SL.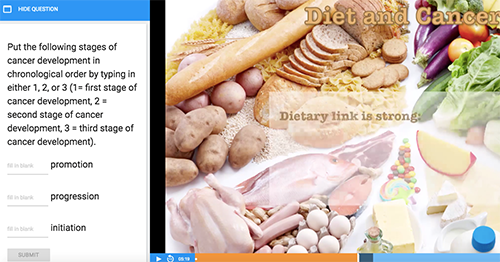 Nutrition 10V consists of pre-recorded module videos with re-vamped PowerPoint slides and embedded (ungraded) practice quiz questions that appear about every 4-7 minutes. These practice questions give students experience with the types of questions that will be asked on the extra credit quizzes and exams (as shown to the right).

Nutrition 10V has the same amount of exams as the in-person course (two midterms and one comprehensive final), but the exams in Nutrition 10V are taken online using the virtual proctoring service, called ProctorU. There are also plenty of extra credit opportunities offered in Nutrition 10V, which are all completed online and announced through the Learning Management System, Canvas.

Don't want to venture into the rain for office hours? Nutrition 10V has you covered because all of the office hours are held online using a Zoom meeting service. Students can connect with the instructors, Dr. Applegate and Debbie Fetter, in these virtual office hours through their webcam, audio, or both.
About Nutrition 10V and Dr. Applegate
Nutrition 10V has been in the works for over a year and Dr. Applegate and the development team have poured a tremendous amount of hard work, effort, and passion into this course to ensure students have the best possible online experience.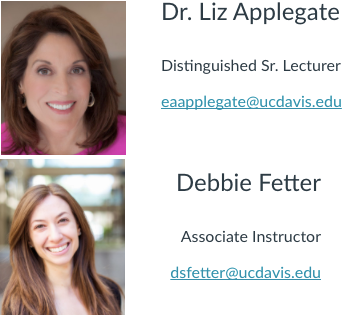 Dr. Applegate is the instructor of Nutrition 10V and she is a Distinguished Senior Lecturer and director of Sports Nutrition. She has taught over 65,000 students during her 30+ years teaching at UC Davis and is excited to transform Nutrition 10 into a fully online version.
About Debbie Fetter
Debbie Fetter is the Associate Instructor and is finishing her PhD in Nutritional Biology at UC Davis. She has been involved with Nutrition 10 throughout her graduate studies and is looking forward to connecting with students virtually this quarter.
Class Availability
Nutrition 10V is open to 100 UC Davis students to take in Winter 2018 and will expand to accommodating thousands of students across all of the UC campuses. Within the first few days of course enrollment, Nutrition 10V was at enrollment capacity. However, Nutrition 10V will be offered every quarter, so hopefully everyone interested in the course will be able to take it before graduating.
Category